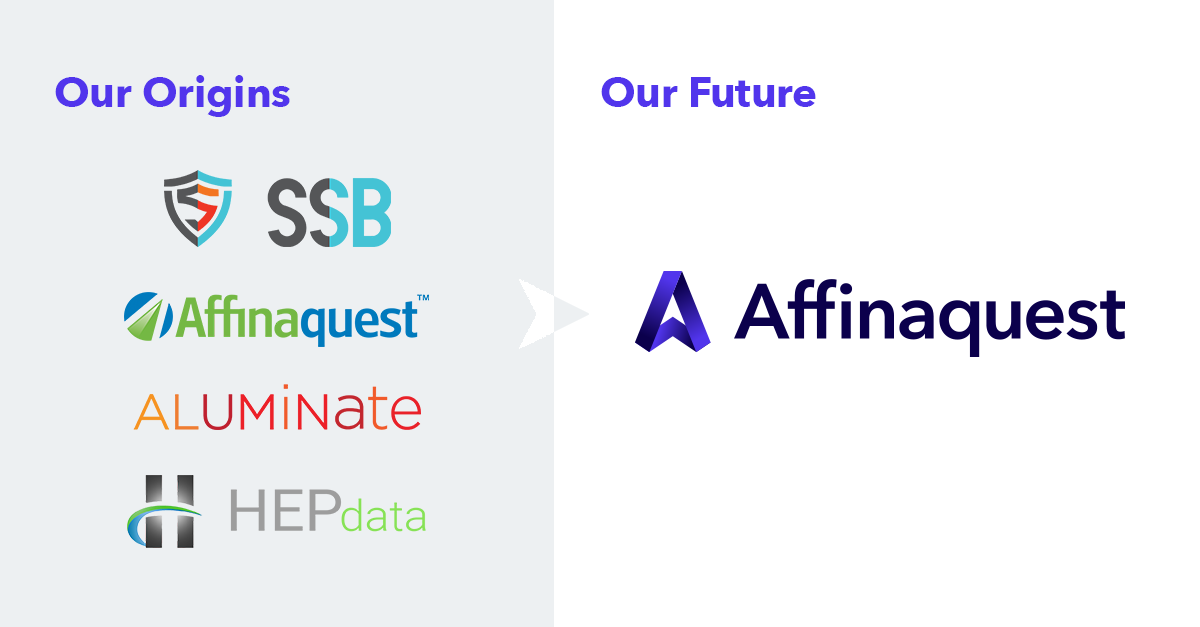 Whether you've been benefiting from Affinaquest's industry-leading advancement and collegiate athletic solutions for years or searching for the right platform to empower your crucial relationships with alumni, fans, students, and donors, things just got better…in a big way.
Today, we marked the next chapter in the life of our company with a brand-new look and feel that reflects the power of our fully-integrated data solution tailored to the challenges facing university advancement offices, collegiate athletic programs, and visionary non-profits.
Our passion and ability are reflected in our new look. The Affinaquest "A" reflects not only the continuous cycle of relationship-building but also conveys the "ever upward" thrust of your energy required to fund advancement, fill stadiums, and endow meaningful endeavors. Its regal purple reflects the nobility of your efforts and the creativity that informs our solutions. It is the look of a company ready to help you win the hearts and minds of your most valued constituents.
The landscape upon which organizations like yours exist is rich with opportunities to usher in a new era of meaningful affinity. Purpose-driven organizations know that the key to overcoming challenges like dwindling enrollments, shrinking ticket sales, and increasing economic uncertainty is unlocking the power of relationships with the people who have the strongest reasons to meaningfully engage. Challenges like donor fatigue or "pandemic homebody syndrome" can only be overcome by building rich, meaningful relationships rooted in true recognition, authenticity, and trust.
To fuel the affinity that drives success, you need a partner with decades of experience, who has been there and can meet you where you are, offering the clarifying power of enhanced data and relationship management with an informed vision for the future.
You need the Affinaquest power to forge meaningful connections.
Our company was built by connecting acquired companies with the capabilities most needed in the realm of university advancement, collegiate athletics, and non-profits. Our technology enables you to develop the most complete, accurate view of each individual, then enhance it to fully reflect his or her willingness to engage with your organization.
Knowing that different departments within your organization may lay claim to "owning" a particular relationship, we facilitate the sensible sharing of that connection to best stoke the fires of affinity. We can also multiply the impact of generosity with our ability to identify and activate matching gift opportunities unique to each person. Then we help continually future-proof the relationship with predictive analytics that recommend the best time, place, and manner of your next touch.
So contact us today to accelerate your affinity and secure your future.