Acquisition Brings Leading Advancement Software, Affinaquest, Together With SSB's Suite of Donor Data Management and Matching Gift Offerings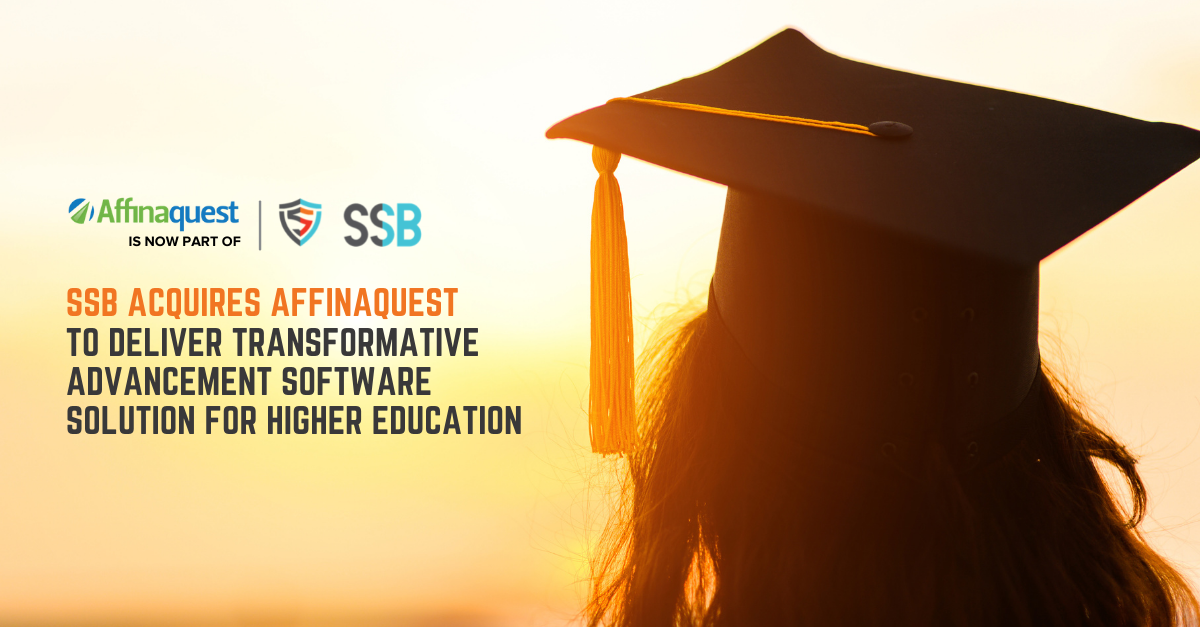 Denver, CO (June 7, 2021) — SSB, a leading data management and analytics company serving higher education, collegiate athletics, nonprofit, and sports organizations, announced today that it acquired the industry's leading higher education advancement software provider on the Salesforce platform, Affinaquest. Affinaquest is the only Salesforce-based independent software vendor (ISV) that focuses exclusively on college and university advancement. As part of the transaction, Affinaquest team members will become part of SSB, and the company will retain the Affinaquest software brand.
Affinaquest's innovative cloud-based advancement software was developed over 30 years by a leading team of CRM and advancement-specific experts and designed from the perspective of both back-end administration and front-end tools for fundraisers. Affinaquest offers critical functionalities such as management of prospects, memberships, volunteers, and campaigns as well as gift processing, biographical and demographic contact data, and reporting and dashboards, all designed around the unique needs of advancement. Additionally, Affiniquest brings extensive CRM experience to further support SSB's leading solution for sports, entertainment, and collegiate athletics.
The synergies between SSB's proprietary data management platform and matching gift solutions and Affinaquest create an advancement ecosystem that grows fundraising, enhances donor engagement and improves operational efficiencies. SSB and Affinaquest have driven over $3 billion in fundraising this past year and offer an in-house team of experts who collectively possess hundreds of years of experience in the advancement sector.
"With the acquisition of Affinaquest, SSB now offers the most comprehensive suite of software solutions on the market to power the fundraising operations of higher education and nonprofit organizations," explains Mike Banville, CEO of SSB. "We are committed to driving innovative solutions that further our clients' missions while also forming deep and lasting relationships with key constituents and donors."
SSB currently works with higher education institutions across the country, including more than half of the universities in the Power Five Conferences. With the Affinaquest acquisition, SSB will expand its portfolio to include elite institutions such as the UMass Foundation, Carnegie Mellon University, Vanderbilt University, Washington University in St. Louis, Arizona State University Enterprise Partners, Barnard College, Providence College, and the University of Pittsburgh.
"Our decision to join forces to serve our clients better came about after discovering the rich synergies that exist between our respective solutions," explains Jeffrey Shy, founder of Affinaquest. "I look forward to working with SSB as a board member and strategic advisor in the mission to drive growth that will benefit advancement and nonprofit organizations."
Strattam Capital made a majority investment in SSB in 2018 to enable SSB to accelerate growth. SSB acquired HEPdata, the industry's leading matching gift solution and employment data provider, in September 2019. For more information on SSB, please visit www.ssbinfo.com.
About SSB
SSB boosts revenue and fundraising efforts for the higher education, collegiate sports, professional sports, and nonprofit industries through data management, data analytics, matching gifts, and CRM. Clients receive ongoing access to relevant, real-time data that can be easily implemented toward fundraising and revenue goals. SSB works with 1,500+ professional & collegiate sports teams, higher education institutions, and nonprofits. SSB was previously named a Microsoft U.S. Education Partner of the Year and is a contracted provider through E&I Cooperative Services. SSB is backed by Austin-based private equity firm Strattam Capital and has offices in Denver, Nashville, and Reston, VA. Learn more at www.ssbinfo.com or visit LinkedIn or Twitter.
About Strattam Capital
Strattam Capital invests in founder-led, independent, B2B software technology companies outside of Silicon Valley. Headquartered in Austin, Texas, we connect companies with the people, process, and scale needed to reach their potential. We believe in aligning with founders before signing, via our Five-Point Plan process, to allow execution with purpose, excitement, and efficiency. For more information, please visit Strattam.com.