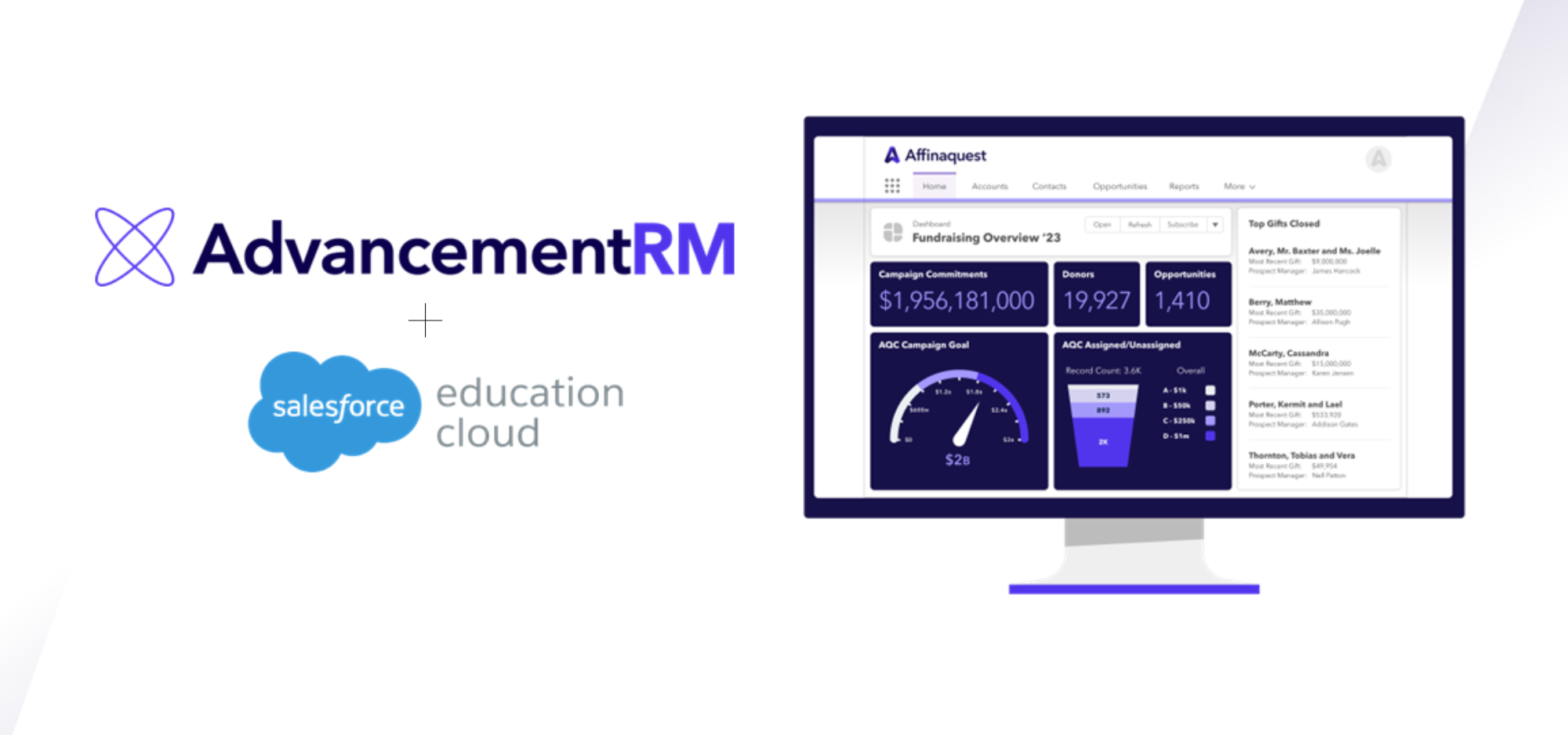 Affinaquest's commitment to innovation and seamless integration gains fresh momentum with the announcement of Salesforce's Education Cloud for Advancement and Alumni Engagement at Dreamforce 2023. 
As the market leading Salesforce-based advancement software, Advancement RM is currently compatible with Sales Cloud or Service Cloud and Affinaquest will continue to fully support these implementations. In addition, for institutions selecting Education Cloud for Advancement and Alumni Engagement, Affinaquest is committed to compatibility with this new cloud offering over time. 
Supporting this endeavor, Salesforce and Affinaquest product/technology teams will continue to closely partner to extend the value of Advancement RM on the Education Cloud for Advancement and Alumni Management. Through this collaboration, both companies demonstrate their shared mission to maximize affinity, engagement, and revenue for advancement offices. 
"In September of 2009, Affinaquest made the decision to standardize Advancement RM on the most modern and innovative CRM platform in the world. For Affinaquest and the clients we serve, innovation at scale is mission critical. Salesforce's announcement of their latest innovation, Education Cloud, only further reinforces our commitment to, and partnership with Salesforce," stated Affinaquest CEO, David Marr, while attending Dreamforce in San Francisco. "This partnership fuels our drive to deliver innovative solutions that anticipate the evolving landscape of Institutional Advancement." 
Through this committed partnership, Advancement offices both inside and outside of the United States will benefit from our collaborative innovation.   
To stay up to date regarding Affinaquest's latest product innovations, fill out the form at the bottom of this page.
About Affinaquest
Affinaquest empowers colleges and universities to unlock their data potential. We are more than software; we empower clients to be the architects of their success. Offering unparalleled business intelligence, advanced data analytics, and advanced CRM software rooted in the Salesforce platform, we enable clients to surface opportunities for increased and more personal engagement, resulting in incremental revenue growth. Together, we drive the quest for affinity and create lasting connections that shape your institution's future.