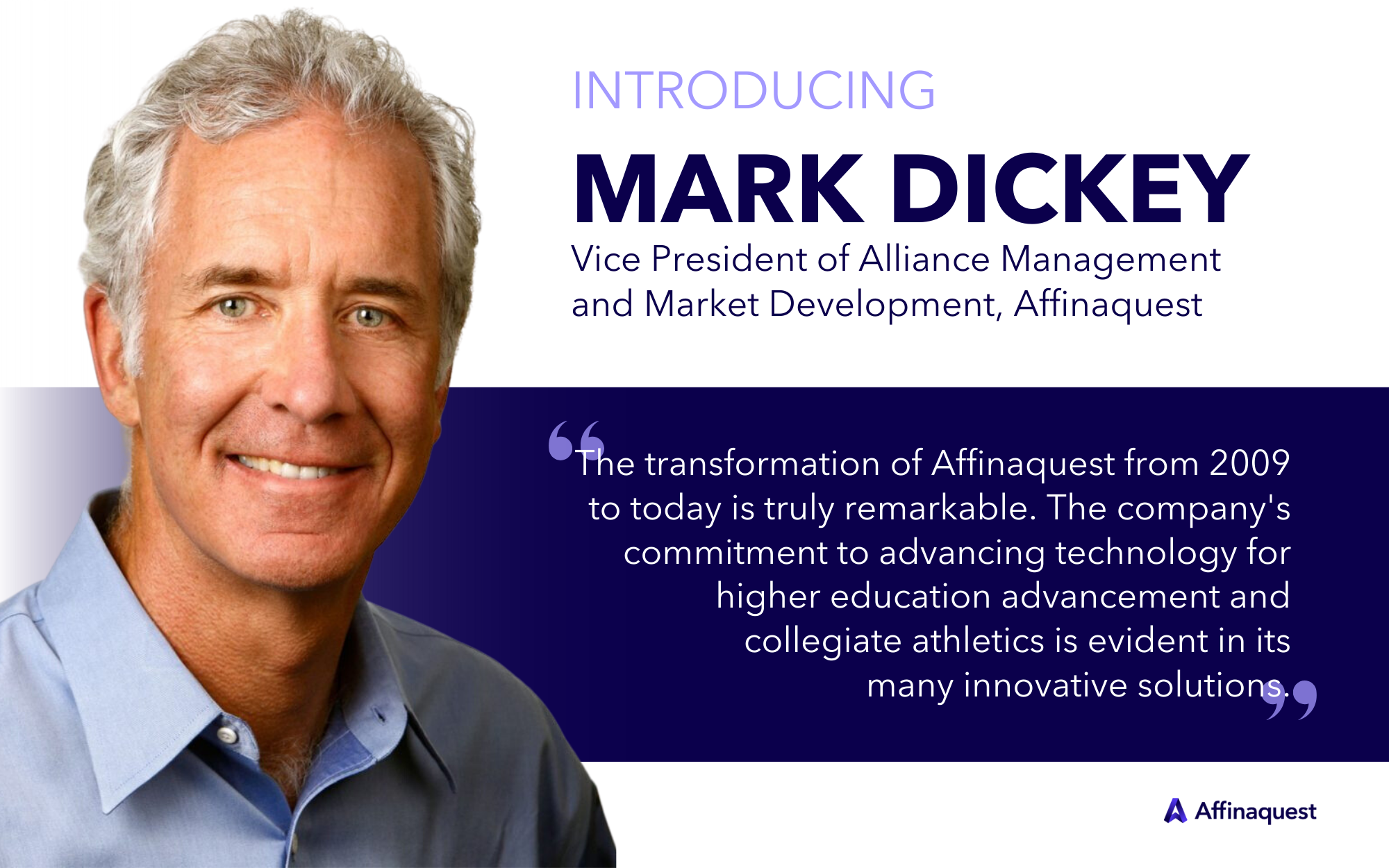 We are thrilled to announce that Mark Dickey, a seasoned visionary with over a decade of influential contributions at Salesforce, is joining Affinaquest as the Vice President of Alliance Management and Market Development.
Mark played a pivotal role in the founding of Salesforce.org back in 2009 as a "spin out" of the Salesforce Foundation. His illustrious career has been characterized by transformative leadership, strategic insight, and a profound commitment to innovation in technology and education.
Mark's familiarity with Affinaquest spans 12 out of his 14 years at Salesforce, where he was drawn to Affinaquest's innovative solutions for Institutional Advancement. During his tenure at Salesforce.org, he recognized the need for a CRM solution tailored for Advancement and discovered Affinaquest through its esteemed founder, Jeff Shy.
The landscape of Higher Ed Fundraising demands efficiency and effectiveness to connect with countless alumni, as public universities have grappled with declining funding. "Affinaquest's commitment to innovation aligns with the evolving needs of the sector," states Mark. His decision to join Affinaquest is a testament to our dedication to pioneering technology for Advancement. "The transformation of Affinaquest from 2009 to today is truly remarkable. The company's commitment to advancing technology for higher education advancement and collegiate athletics is evident in its many innovative solutions". 
With palpable enthusiasm about Affinaquest's potential, Mark says, "Affinaquest's Central Intelligence, an advanced client data platform, combined with predictive analytics, equips Advancement professionals with the tools to foster personalized connections with alumni. Amidst the vast landscape of potential donors, Advancement Gift Officers are presented with a tremendous opportunity to establish meaningful personal connections. Affinaquest's innovative technology and strategic insights position us to harness technology and experiences for impactful engagement."
Mark's arrival marks a significant milestone for Affinaquest as we remain dedicated to driving innovation in Advancement technology. We are excited to welcome Mark Dickey to our team, where his profound insights will propel us forward as we navigate the dynamic landscape of Advancement.