Affinaquest is proud to announce that we have received the 2020 Sales Partner Of The Year (ISV Education AMER) Award for Salesforce. This award recognizes Affinaquest as the highest performer within the ISV ecosystem.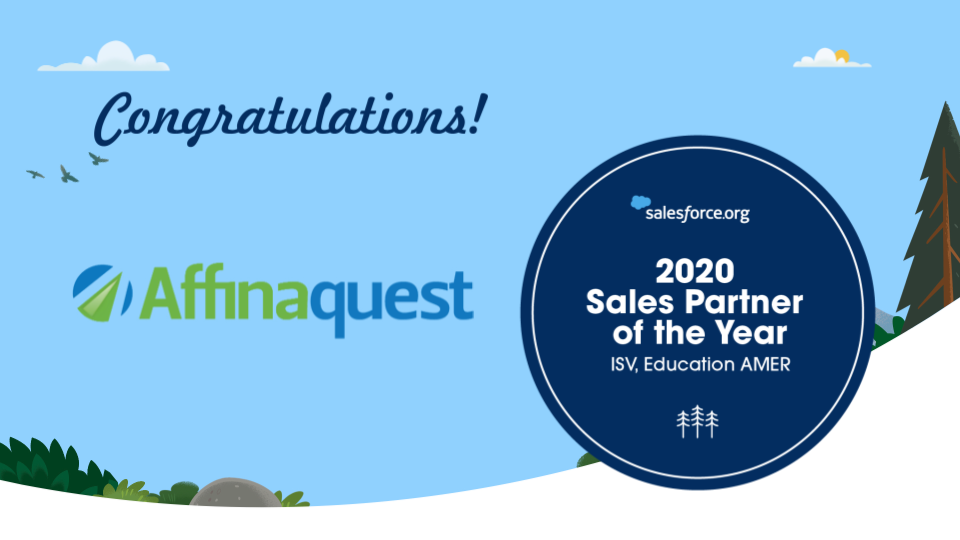 "As the pioneers of advancement functionality on the Salesforce platform, we're delighted to receive this recognition of our long-standing partnership with Salesforce," said James Werner, Chief Strategy Officer at Affinaquest.
Together, Salesforce and Affinaquest have fostered a relationship built on a strong foundation of continual growth with a focus on security. Affinaquest has adopted Salesforce's update schedule- releasing new updates three times a year in conjunction with Salesforce which serves to future-proof the Affinaquest system.
Receiving this recognition would not have been possible without the support of our customers who have continued to provide insights and ideas for continual enhancements.
Are you ready to enhance your advancement office? Adopt Affinaquest; request a demo today.