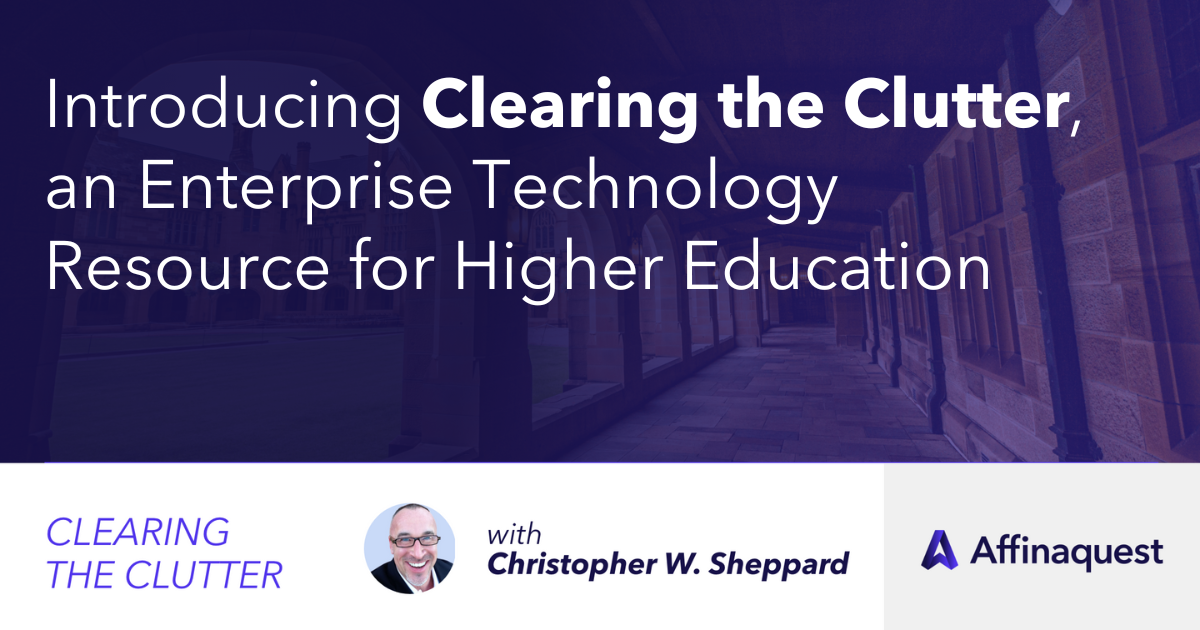 Higher education is at a nexus. The residual effects of COVID-19, diminishing enrollment numbers, and increased competition from non-academic programs are pushing institutions to the brink. Dwindling resources are insufficient to address the increasingly complicated problems that the academy aims to solve, and university leaders find themselves torn between preserving the future of the institution, upholding the traditions of the past, and addressing the rapidly changing needs of the present moment.
Investment in scalable innovation and advanced enterprise technology is no longer optional, but the software and services required to meet the business needs of the institution both now and in the future are complex. The selection process alone demands a new set of skills, resources, and, ultimately, a fresh mindset. How can higher education, long the torchbearers of both heritage and innovation, navigate the intricate web of technology investment and emerge triumphant?
Enter Clearing the Clutter, a new ongoing series from Affinaquest, published here on the Affinaquest blog. Through Clearing the Clutter, I aim to provide clarity and guidance across four key areas of the enterprise software procurement process: Needs Assessment; Features, Functionality, and Flexibility; User Adoption and Skills Training; and Vendor Reputation and Support.
The mechanics of selecting, implementing, and managing contemporary technology solutions are notoriously intricate; the dynamic nature of software functionality, business process, and the change you hope to effect create an ever-churning swirl of issues to address. Each series installment will explore a singular topic in the larger procurement process. For example, in the series Vendor Reputation and Support, I will offer strategies to unpack vendor claims and optimize your client-vendor relationship over the long term.
It is impossible to solve every problem at once; by pulling out one element of the process at a time, you can better examine, understand, and, with clarity, move forward. I want to selectively and deliberately "clear the clutter" of an expansive process to empower professionals to confidently drive their enterprise technology project forward.
Clearing the Clutter will draw upon the knowledge I have gained throughout my career. My professional work with the academy began more than 30 years ago when I became immersed in the intersecting worlds of academia and fundraising, working at the Chronicles of Higher Education and Philanthropy. Since then, I have been privileged to serve and learn from thousands of institutions as they identified critical software solutions for their most pressing problems, often with then-nascent technologies: increasing leaning outcomes with new learning management systems at Blackboard, improving recruitment technologies at Datatel (now Ellucian), creating new digital credential pathways at Parchment, and, most recently, ensuring safer and more inclusive campus communities with Everfi.
Over the years, I have observed the persistent challenges that higher education professionals encounter at every stage of their enterprise software buying journey. More importantly, I have identified many leading practices and techniques to navigate these challenges successfully; this is the knowledge I most want to share.
My passion for higher education is not strictly professional. It is in my family's DNA, borne of multiple generations of my family serving in both secondary and post-secondary institutions. I value, respect, and honor higher education as an engine of culture and civil society. Further, I understand firsthand the opportunity and the catalyst of economic growth that colleges and universities represent for individuals and families.  It is an honor to support the people doing incredible work on the front lines of education and its related entities.
While my professional experience and passion for academia is robust, it cannot answer every question. Consequently, this blog series will draw upon both available industry data and the wisdom of my colleagues, whose leadership and expertise were won on the front lines of institutional advancement, collegiate athletics, and educational technology, respectively.
I believe our combined experience and insights will equip higher education leaders with the tools they need to navigate the ever-evolving technology landscape, while preserving the unique character and values that define their institutions. Together, I hope we can pave the way for transformative technological advancements in the pursuit of excellence in academia.
Welcome to Clearing the Clutter.
Subscribe for Updates
Stay up to date on Clearing the Clutter and other Affinaquest news by submitting your email address in the box below.