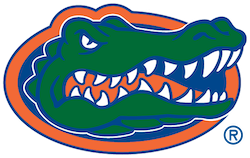 The Team
Gator Boosters serves as the fundraising arm for Florida Athletics with a mission to strengthen the University of Florida athletic program by encouraging private giving and volunteer leadership from Gators everywhere.
The Challenges
Same Contact, Multiple Places
UF has a wealth of prospect data across multiple source systems throughout athletics and advancement. Different departments "owned" their respective systems and updated contacts separately, without a seamless way to sync the individual records. The disparity between contact records across systems caused redundancies and inefficiencies in how Gator Boosters' Major Gift Officers looked at prospects.
Finding New Prospects
Since 2017 UF's customer database has grown to almost one million active contacts. With this growth, UF saw an opportunity to find new prospects who had high propensity and capacity to give but may have only interacted with the athletic department via digital ticketing, merchandise purchases, or lead generation campaigns.
Qualifying New Prospects
Gift Officers do a lot of work researching, prospecting, and prioritizing their outreach to maximize their time and impact. Gator Boosters' Major Gift Officers wanted to identify the right prospects to call, email, or visit while out on the road; however, organizing those opportunities wasn't always easy or efficient.

The Play
In Summer 2019, UF implemented Affinaquest's Central Intelligence solution, that creates a 'Golden
Record' enabling the integration of ticketing, merchandise, and email data. The integration of this
information through Central Intelligence, Affinaquest's data warehouse, enabled UF to identify prospects across all major engagement touchpoints and assisted major gift officers in effectively targeting thousands of new leads.
To qualify and prioritize the best solicitation opportunities for the development team, Gator Boosters appended the constituent records of these new leads, expanding each fan's comprehensive profile. UF generated fan scores for each contact in the database with newly updated demographic information, wealth scores, and engagement data points from email, merchandise, and ticketing.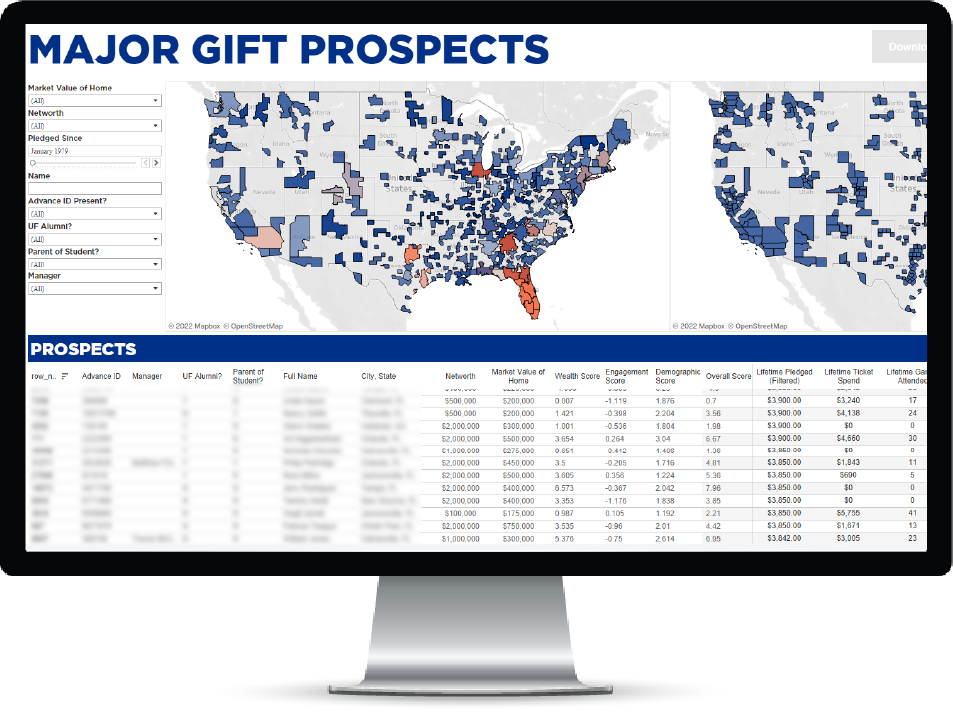 Next, the fan scores were used to create a "Major Gift Prospects" dashboard in Tableau. Updated in real-time for gift officers, it overlayed key prospect information across a United States map. The dashboard allows users to highlight specific locations and prospects in those areas, so officers can always aim at the best opportunities on the road. Because relationships are critical to major gifts, the dashboard is also exportable for further exploration and utilization of the prospects' unique data points, allowing for customized outreach.
The Win
The combination of using Central Intelligence, fan scores, and the major gifts prospecting dashboard have supercharged UF's prospecting. These innovative tools now allow officers to efficiently identify the best opportunities, organize their outreach, and prioritize engagement with potential donors – leading to numerous major gift contributions in the first year. These insights have also allowed Athletics to better coordinate with central advancement, so no solicitation opportunity is left unturned.