Matching gifts are a straightforward, surefire way to boost fundraising revenue. But for many organizations, it is an underutilized revenue tactic due to the manual resources it requires.
You've done all the hard work of securing a donation – so why not double it for free?
Here are a few things you can do to automate your matching gifts process:
Promote matching gifts at the point of donation.
Did you know that 80% of matching gift-eligible donors do not know their company will match their gift?
Promoting matching gifts at the point of donation is your best opportunity to double a gift, because 84% of donors say they're more likely to donate if a match is offered. 
Give donors the opportunity to quickly search to see if their employer offers a matching gift program and whether or not their donation is eligible.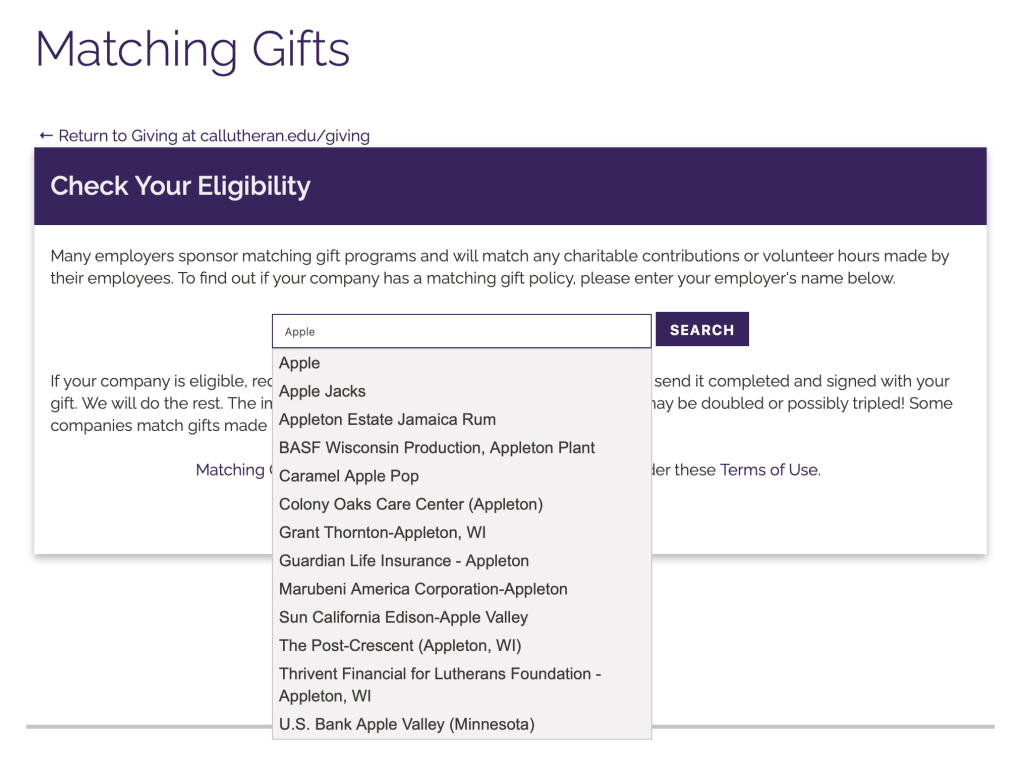 Clients who use the eMatch Donor Link, an embedded search tool with Affinaquest's AffinityX2 Matching Gift Solutions, can look up their employer before, during, and after a gift to see if their company will match.
Once the donor selects their employer, the search tool populates the company's matching gift policy and guidelines that include minimum and maximum gift amount, eligible employees, contact information for submitting paperwork, and more.
Modernize your matching gift database.
The old way of determining whether a donor was matching gift-eligible is time-consuming and labor-intensive. For each donation, organizations had to look up the donor in the database, see who their employer was, and look up their matching gift policy in your company database or do your own research to find out if an employer has a program.
Affinaquest lets users tap into our proprietary Auto Match database of 23,000 corporate matching gift policies that are updated in real-time. This database enables your staff to focus on driving donations instead of manual, time-consuming research and data entry.
Append donors' employer information.
Research shows that 20% of a donor database will experience a change in job title or employer within one year.
Without the right tools, job changes and other employee-related challenges can create barriers for your team when you're trying to maintain database accuracy.
Without this employer information for your donors, you are likely missing out on understanding your true matching gift potential. Using Affinaquest's data enrichment services, you can append up-to-date employer names and job titles to your donor records.
Set automatic email reminders until the paperwork is complete.
As a follow-up from the donation, schedule automated emails to remind donors to complete and submit the required paperwork to get their gift matched. Helpful resources to include in these emails are the company match policies, guidelines, and contact information.
Organizations that use AffinityX2 can manage all their matching gift-related emails in one place with a quick, one-time setup. The email feature lets you configure your reminder emails' look, feel, and timing and populate all the information your donor needs to submit their paperwork.
Once a donor clicks the button in the reminder emails to mark the paperwork complete, all the organization has to do is wait for a check to arrive.
Automate matching gift reporting.
It can be challenging to report on matching gifts, much less automate the process when so many systems are in the mix.
Auto Match's seamless integrations with your fundraising software and processing system make it easy to report on matching gifts, including potential matching gift amounts and an average donation. Auto Match also automatically generates reports for your reminder emails so you can track engagement indicators such as clicks, opens, and unsubscribes.
Bonus: Sync CRM to Auto Match.
Once a donation gets processed through your organization's CRM, Auto Match will flag the gift and whether that donor works for a matching gift company, then send the matching gift opportunity over to the AffinityX2 Auto Match portal to activate the workflows.
This automation gives your team the ability to identify previously anonymous matching gift revenue from online and offline giving.
Learn more about Affinaquest Matching Gift Solutions
Would you like to see some of these tools in action or uncover your organization's matching gift potential? Affinaquest can run a Matching Gift Scorecard on a sample file from your donor database for free to see how much matching gift revenue you could be leaving on the table or give you a demo of Affinaquest Matching Gift Solutions including Auto Match and Match Lookup. Contact us to learn more.